Over the last year or so, I've had several people ask if I could do portraits of their cats. Until recently, I've hesitated because while I'm confident in my photography skills, I've had very little practical experience with cats. Pretty much, when I see one, I say hello and go about my business. I photographed a cat one time when I was employed at The Picture People about 15 years ago, and perhaps you remember Grendel, the cat I worked with earlier this year.
Yesterday, I had the opportunity to meet James McDaniel. James is a photographer based in Redmond who does a lot of roller derby photography, and he volunteers as the resident photographer for MEOW Cat Rescue in Kirkland. He agreed to spend some time with me and teach me a few tips for interacting with cats in ways that produce nice photographs.
Much of what he taught me was similar to what I already practice when working with dogs and toddlers. Patience and preparation are key. Get yourself ready to capture what comes your way, and then wait. When the cuteness kicks in, don't hesitate to shoot, and shoot often!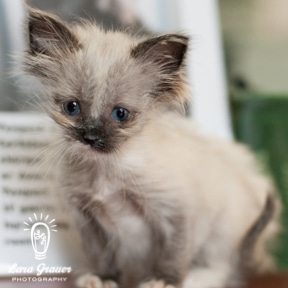 Of course there were several tips that require some new skills that I will need to practice. In the work I do most, the dogs and people are not in cages. A dog might be in some sort of enclosure, but there is plenty of room for us both to move around. Cats, on the other hand (especially the ones in shelters), are typically kept in cages while they await their placement. Since my head and shoulders can't maneuver through the cage, live view and manual focus area selection become extremely useful! Not only have I never used these features on my camera, I didn't even know I had them! I'm thrilled to have some new tricks up my sleeve. This will obviously come in handy next time I photograph a shelter cat. I wonder what other situations will leave me wanting my new tools.
I also learned a cool trick to help keep escape artist cats in their cages when the door is open. I feel like a master cat lady now! Of course there is tons more to learn, but this was just what I needed to confidently add cats to my pet portrait offerings. It's a whole new world!