I've been thinking of my clients, friends, and others in my network over the past 6 weeks, and wishing you love and good health. I know everyone is experiencing their own unique storm under the clouds of COVID-19. My storm has required me to retreat and take cover for a while.
During this time of quiet, I've been thinking about what it is that I do for people as a photographer. I see these beautiful portraits throughout my home – on the walls, on shelves, and in albums – and each one brings me back to a specific moment, as if I've entered a time machine. Once I've landed in that instant, the story expands into so much more.
On my refrigerator door, there's a picture of my grandparents. They were likely in their mid 70's when the photo was taken. I remember that the snapshot was taken during a party in my family's back yard, but I don't remember what the occasion was. When I look at that photo, I'm taken back to that time period and I witness the commitment that my grandparents had to each other. Then I remember the love they had for their family, and for me.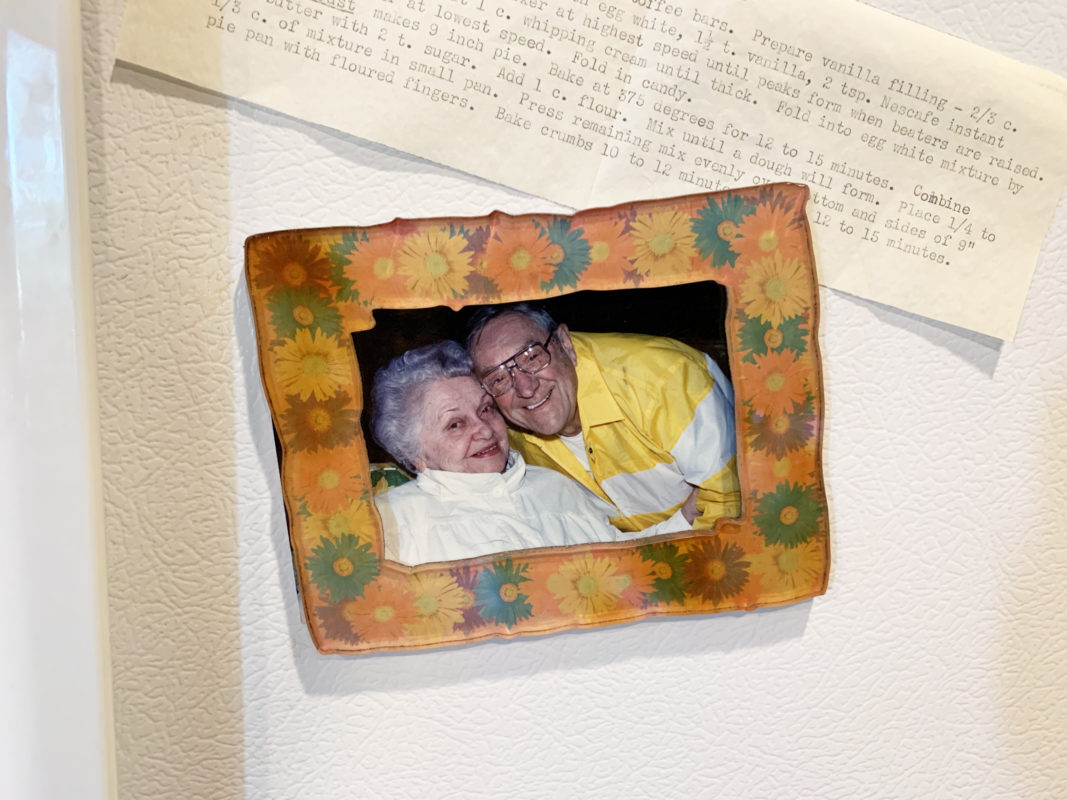 My grandmother was a fountain of hope. She was a fabulous homemaker, who found joy in entertaining. We loved to play cards together when I was growing up. There were periods in my life when she would care for me on a weekly basis. We would spend our time watching TV, eating treats, and playing cards. We always called her Nana. To this day, I vividly remember her advice to "Count your blessings," and to "Never take your health for granted." Nana told me many times to get the most out of my education because "Nobody can ever take your education away from you."
I remember my grandfather was fiercely committed to family, and he would visit my mom every Saturday morning. My mom would offer him some coffee each time (she never drank it herself). They would visit for a while, and then he would move on with his day. Sometimes he brought flowers for us to enjoy, and he always left money on the kitchen table for my brother and me.
As Nana aged, she started having bad back pain, and she spent much of her time lying on the sofa. One day, as she lay there, I sat across the coffee table from her, and we played 500 Rummy together. At one point, I was apparently getting lazy, and she could see the cards in my hand. She said to me, "Breast your cards!" I had no idea what she meant, but it sure sounded funny to this 80's girl, so I laughed!" Nana didn't know what I was laughing about. She explained that she wanted me to hold my cards close to my chest so she wouldn't be tempted to look at them. "That's what 'breast your cards' means," she said. She used the phrase many times after that, and I was always reminded of her "old time-y" ways – and the difference between our generations.
In some ways, my grandparents' life appeared easy. But I know that they faced big challenges just like the rest of us. Nana's sweet disposition and her optimism had a huge impact on me. Grandpa's commitment to taking action and living up to his responsibilities inspires me to believe in and walk toward my goals. If it weren't for the photo on my fridge, I would seldom revisit their influence on me. Stories about my loved ones inspire me. They keep me focused and help me find the strength to keep pushing forward in my life.
There are lots of portraits on my walls. I love how they enhance the aesthetic of our space, and how each one acts as a portal to a story that brings meaning to my life and the people I love.
Portraits evoke love, admiration, and connection. They bring us a sense of belonging. Portraits can lift our spirits when times are dark. They remind us of what's important in life. They show us reasons to have gratitude, and reasons to keep moving forward.
Whether you need to feel connected to others, or connected to yourself, portraits are the perfect thing to remind you that you are worthy, and you are loved. This is so important.
In our current circumstances as we face the dangers of COVID-19, physical health takes precedence. I'm currently not permitted to work because portraits are not considered "essential" to sustaining life and the supporting structures of our society. While we isolate ourselves from each other out of love for one another, we have to depend on the portraits we already have to keep us connected and bring us hope and optimism.
I know deep in my heart that portraits are essential to well being. They may not be scientifically necessary for maintaining breath and heartbeat, but they are one of the best ways to remind us of our purpose – and purpose is essential for motivating action and inspiring longevity.
My heart has been reinvigorated for what I do as a photographer. I know that we will have the opportunity to work together again soon. When that day comes, I will dig deep and bring you the most love and the best service I possibly can. I want to create portraits for you that you can admire and get lost in. You deserve to be connected to your loved ones through portals of time. I'll be ready for you when the time is here.