I'm really drawn to things that are raw, rough, and full of texture. I often produce photographs that are bright and clear, but I'm always looking for backgrounds that involve things like cement, raw driftwood, or stone structures. I love the strength that is portrayed by these types of textures.
Recently, you may have noticed that I've started to pursue dogs as a subject for my photography. I love dogs a whole lot because they embody some of the characteristics I see in children. You can see this post to learn more about the similarities I've noticed. Dogs exist without a filter. They are pure and true. Their innocence shines through like a light.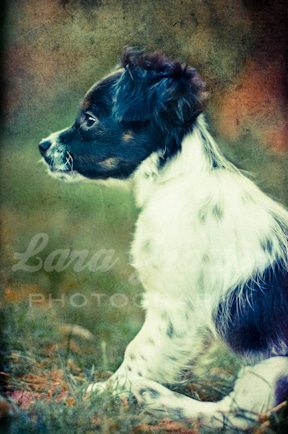 I am creating a series of dog portraits that incorporate my love of grungy, gritty textures. Combining the sweet, clear, colorful demeanor of a dog with the strong and durable features of earth and grit has always made me happy. I think they complement each other, and round each other out. In this project, I'm taking this concept further.
I'll be applying some creative processing techniques to my photography to start. Adding texture, contrast and color hues results in some interesting images on their own, but the pieces won't be finished until they've been printed on unique materials that complete the concept. The end result of this project will be a collection of real-world art that's ready to be hung on your wall.
I want to share some of these images with you along the way. Hopefully you will enjoy embarking on this journey with me. Eventually, I plan to put the pieces on display so you can come see the differences it makes to view the work in person.  If you have ideas for places I can display the project (or even just a few select pieces), please let me know. I'm always open to making new connections, and finding opportunities to share my art work with others.