The Journey to Shining My Light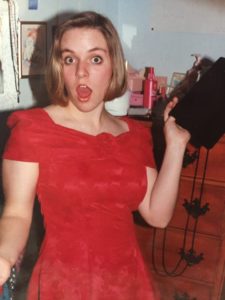 When I was in high school, I was a fun-loving young lady who excelled in school, friendship, and happiness. I was involved in a wide variety of activities including theatre, dance, swimming, gymnastics, and even sports training! Prior to high school, I sang in my church choir, I rode horses, and I took art classes in elementary and middle school.
I wanted to try so many more things. I saw kids taking art, music, and photography classes in high school, and I was so envious. My academic load made it impossible for me to take those electives. I was interested in the automotive courses, and I wanted to learn more about theatre set construction. Somehow along the way I managed to join a bowling league for a season, and I even took some tae kwon do. But no matter how I scheduled my time, there just was no way I could do it all.
I still haven't had a chance to try out all of my interests. But as luck would have it, when I was at Northwestern University, living in an arts-focused dorm, we had a photography dark room in the basement. I was truly excited about this fact, but I had no idea how to use anything in that space. To my delight, my freshman year, there was a photography course available in our dark room! Not only was it a for-credit elective, but it was offered exclusively to the residents of my dorm!
I snatched up the opportunity to take that class. I learned how to use the available equipment, and I was hooked. I signed up for all of the remaining photography classes at the university, and I brought my camera out at every opportunity. My favorite hobby of the moment was no secret to anyone.
Being involved in theatre allowed me opportunities to create photographs for various student-run productions. It also led to doing headshots for some of my fellow theatre majors. Plus, I got to make a lot of images to promote the a cappella group I was a a part of (wahoo – Purple Haze is turning 20 this year!). One Christmas, I set up a studio at our family celebration, and offered portraits of anyone who would sit for me! Clearly, I had a passion for this craft.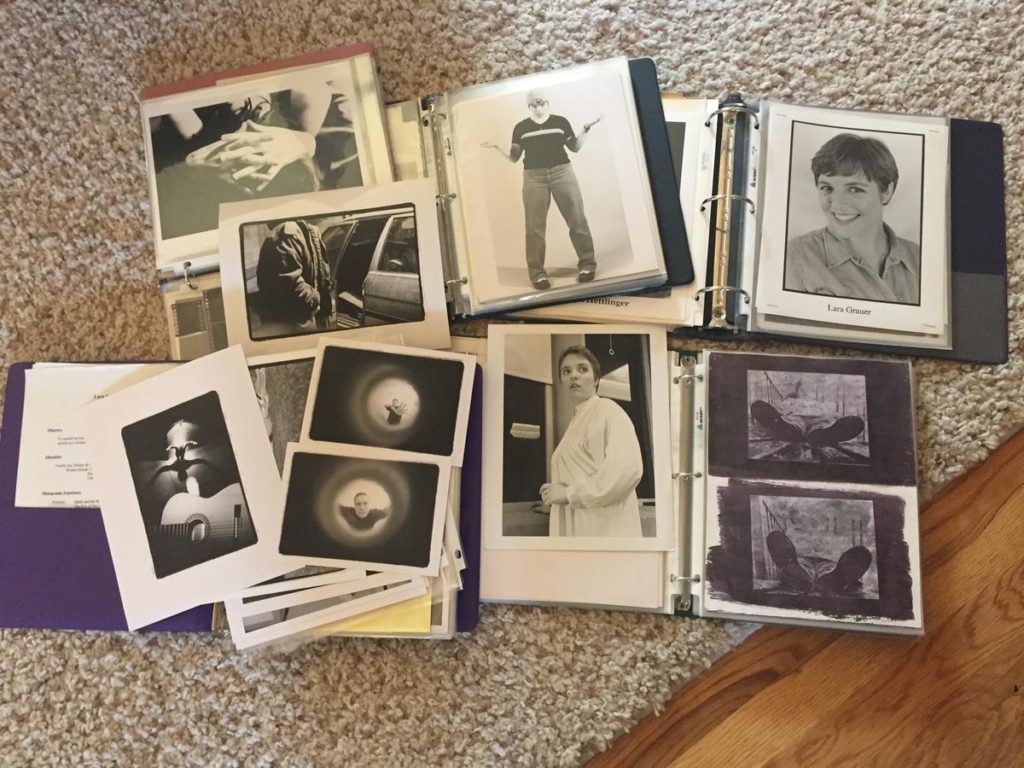 Here it is, complete with all of the negatives – my massive pile of college photography work!
As I finished up my time at Northwestern, my intent was to continue with theatre. I wanted to perform in professional plays in and around Chicago, while I built a family. Shortly after graduation, I got myself a job at The Picture People – it was a portrait studio at Woodfield Mall in Schaumburg, Illinois. The idea was that this job would give me some money to help fund my theatre adventures. In hindsight, I can see that the portrait studio job allowed me to practice my photography skills on a regular basis, while my theatre muscles began to atrophy.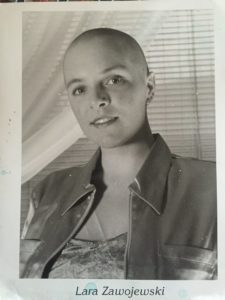 I started to notice that auditioning was difficult because I rarely practiced anything in front of an audience anymore. I also realized that if I did get some traction started in the acting world, I would be required to put in time on the weekends and in the evenings. I knew I wanted to have a family, and this kind of schedule would be challenging.
After a while, I let theatre take a back seat, and shifted my focus to dental hygiene! You may wonder what appeal the dental field could possibly have for an artist like me, but I'll remind you that I had a huge variety of interests, and I wanted to try everything! Three years later, while continuing my job as assistant manager at The Picture People, I became a registered dental hygienist in 2002. That summer, I left the portrait studio to jump into full time work at a dental office.
This was an interesting time, but it was short-lived. I struggled with carpal tunnel syndrome, and after a while I came to see that there was less creative thinking involved with dental hygiene than I would have preferred. Soon after my start in this new career, I became pregnant with my daughter. I continued to work at the dental office throughout the pregnancy, and I didn't take many photographs during that time. I knew I was missing some creativity in my life. When my daughter was born, I was compelled to photograph her at every turn, and was immediately tossed back on the photography wagon!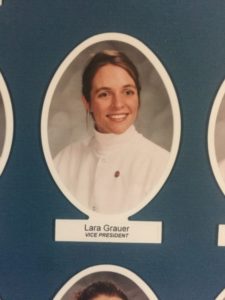 It seems to me that wherever I go, photography follows me. Sometimes I feel like I'm still a beginner. I officially launched my business in 2006, so it's time to celebrate 10 years in business on my own! But all along the way, I've been living my mainstage life with gusto while photography hangs out in the wings.
It's truly exciting to be making the shift this year, and letting my photography passion take the stage! I have received quite a bit of interest from people who want to participate in my professional certification journey. I'm happy to say I got started with the compulsory images last week, and will shift to some more flexible client-centered photographs in the weeks ahead.
I've planned some fun events for you this year, so please keep reading my emails and blog posts to stay up to date about what's happening! I've been rumbling along the road with photography in the back seat for 2 decades now. Things have changed, and I couldn't be more excited to bring all of the little lessons I've learned together so that you can benefit from them with amazing and top-notch art to preserve your life's memories!